Distance: 7.55 miles (out and back)  Elevation Gain: 2,950 ft (total) 2,585 ft (net) 
Max Elevation: 14,057 ft  Min. Elevation: 11,472 ft
At 3:30am on September 8, 2013 we got out of bed, grabbed a quick breakfast and our gear, and headed out for our first 14er — Mt. Bierstadt. It was Allyson's birthday and this was about as exciting an adventure as we could think of for celebrating her special day. Driving up through the mountains the city lights faded away and we were left with darkness and the stars. There were thousands of them twinkling down at us, telling Allyson Happy Birthday.
To get to Mt. Bierstadt we passed through the town of Georgetown and noticed how nice it looked and resolved we'd stop by on our way out and get some brunch. After Georgetown we were on the famous Guanella Pass. This is a high mountain road that leads from I-70 to US Highway 285 (which we became intimate with on our trip to Durango and Silverton). The pass was almost pitch black and we were afraid we might miss the trailhead. Luckily, we had an idea of about how far we needed to drive on Guanella Pass (about 10-12 miles) and around mile 10.5 we saw headlamps of hikers in a parking lot to the left (east). We pulled in, found other hikers ready to climb Bierstadt, and we knew we were in the right place.
We began our hike at roughly 5:45am. The sun had not risen yet and it was cold, around 40° degrees. We donned our jackets and our headlamps and began our hike into the darkness ahead. You can see some photos from the start of our hike above.
The first part of the hike is through a dense marsh. In this riparian ecosystem we had heard that moose have become common, but we never expected the following scene when we set out that morning. We were hiking more or less alone when we saw a group of hikers stopped ahead of us. Assuming they had just seen something interesting or were trying to find something in their packs we just walked right up. As we approached we heard loud grunting sounds coming from what appeared to be a huge black shadow blocking the trail ahead of us. Adjusting our eyes we could see this large black object was moving and had huge antlers. It was a massive shiras bull moose — and it appeared to be mad.
We looked at the other hikers around us, who didn't appear as concerned as we did, and we backed off. Turning off our headlamps we sat in the background as we watched a couple of hikers beat their ski poles at the moose trying to "scare it off." They were told this wasn't a bear and that they were just agitating it, to which they responded, "That's what you're supposed to do!" Well, after their approach with beating sticks the bull started to grunt more, lower his head, and grind his antlers into the shrubs around him, causing the branches to break loudly. We backed up some more, however, the hipster looking young hikers decided they were going to circumvent the moose by going off trail and around him. This is where it got interesting.
In the area was a cow and a large calf, which we had all seen. So we weren't going to 'invade' the bulls area with the mama and baby around. But the hikers ventured out into the marsh, with its at times knee high water and thick mud. After a minute or two of them walking out at an angle to the bull he bolted out toward the hikers. They were startled by this and began plodding back towards the trail as best they could. Luckily for everyone involved the bull only feigned an attack. Once the hikers were heading back towards the trail and away from his area the bull stopped his charge. Also lucky for us, after the end of the feigned charge the bull kept walking out into the marsh away from the trail, which meant we could continue on our way — having witnessed something pretty awesome.
Sadly, given the fact that the sun wasn't out and the danger of approaching an agitated bull moose we didn't get a picture of this majestic creature. The image below is handheld with a multisecond exposure, so it's pretty blurry.  But you can make out the shape of the moose with his antlers. The hikers to the right were the ones beating their trekking poles at the moose.
Continuing on our way we crossed a series of small bridges (very well maintained) that crossed over the wetter parts of the marsh.  Looking down with our headlamps we noticed that when the light hit the bridge it sparkled back at us.  At first we thought that perhaps this was some sort of grip that had been placed on the bridge so hikers would be less prone to slip.  However, this was very far from the truth.  Upon further inspection it was clear that the sparkling was ice, and we realized we needed to watch our step.  It was cold indeed this morning.
After a few of these bridges we were on a nice path, and the sun was starting to come out.  There were already a few groups of hikers about, as witnessed by the moose, and after a very short jaunt from the end of the bridges we saw our next group of hikers staring at something of interest.  This time it was a fast moving stream that everyone was concerned with.  There is no good way to cross the stream and one couple was not able to get their dog to cross the stream.  In fact, when they tried to pull him across by the leash he just laid down.  They let us go in front of them.
We were wearing waterproof boots so the stream was not a problem for us.  But others weren't so lucky.  If you plan on hiking Bierstadt we strongly recommend bringing an extra pair of socks and good hiking boots for this crossing.  Once across we moseyed on through the trail and took some shots of the sun rising, which you can see below.
The trail actually starts to go up at this point.  If you take a look at the elevation profile of this hike it starts out at 11,734 ft and then dips to 11,497 ft.  Thus, the first mile is all downhill.  It's only after that first mile that you actually begin the 2,558 ft ascent.  This second part of the hike is still a very nice trail and not very rocky at all.  There were still some wildflowers about, mostly paintbrushes, alpine avens, and some members of the stonecrop family.  It was very pretty, but chilly, as we were still climbing in the shade.
After a bit of hiking we could see the crest of the hill we had been climbing and Mt. Bierstadt and the Sawtooth came into view again.  We were very excited to see it and stopped to take some pictures.  In the image below you can see the Sawtooth's jagged crest and the summit of Bierstadt to the right.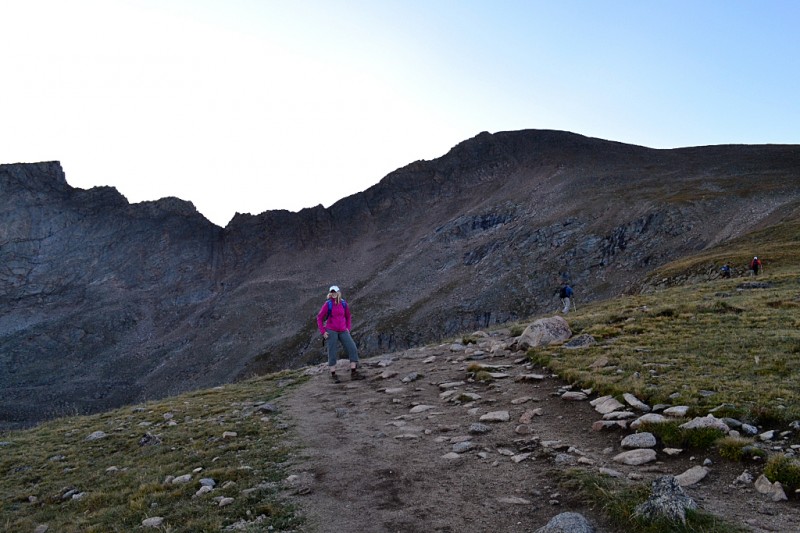 The trail continues to be friendly for a ways further, but then abruptly shifts to a less friendly rocky trail.  It begins to be steep at this point, with some parts of the climb approaching a 70% grade.  The footing can be slippery as well with little streams of water flowing down from unseen sources.  It is a section to take at a nice comfortable pace, and again we recommend good boots for this.  Below you can see two images of the trail at this point.  In the image on the right you can just make out a cairn on the top of the hill, in the center.
As we neared the summit we started talking about how the name of the mountain literally meant Beer Town (bier = beer, Stadt = town/city). Our hope was that there was a super secret and exclusive little bar on top of the mountain with a few good beers on tap. We knew this had an infinitesimally small chance of being true, but it was fun to think about and this was Colorado. But this got both of us thinking about where the name actually came from, since there was no town in Colorado nearby with the name Bierstadt. As it turns out, Mount Bierstadt is named after the famous painter Albert Bierstadt. His beautiful paintings of Colorado can be found here: Gallery of Albert Bierstadt's Works.
After hiking through that rocky section you crest a small ridge and it becomes very clear what you have to do next.  The summit is clearly visible and unless you are very early indeed you will see people standing on the summit.  There are roughly 300 ft. left to climb at this point, and it does involve a little scrambling.  Below is a picture of the 300 ft. tall mass of rocks that you must climb to get to the true summit.
Well, we decided to try and follow the cairns up to the top, and quickly realized that this was silly.  There are cairns set up all over the place and there don't really lead through any one course up.  After a while we just said, alright, let's just go straight up — and we did.  Once on the top we had a great view of our surroundings and quickly found the summit registry.  We signed it, took a seat, and got out the birthday cake!  Here are some of the pictures from the top of the mountain.  Notice the cake and balloons in Allyson's sign!
There are two large lakes visible from the top of the mountain.  Abyss Lake (which has a pretty cool name) and Frozen Lake.  Frozen Lake is visible from just before you ascend the rock pile to the south-east and Abyss Lake is only visible from the summit to the north-east.  Abyss Lake is rather large and directly between Mount Bierstadt and Mount Evans.  They are both shown below (Abyss on the left and Frozen on the right).
It is possible to cross the Sawtooth (13,440 ft.) from Mt. Bierstadt and then Mt. Evans (14,265 ft.) and Mt. Spalding (13,842 ft.) become accessible.  However, the trek over the Sawtooth is an intense scramble which can take 2 hours to complete.  We knew the weather forecast predicted thunderstorms in the afternoon, hence our early start, so we opted not to follow some of the other hikers who were intent on crossing over.  But this gave us something to look forward to and we plan to return one day.
After taking our photos, signing the registry, and looking around we decided to head back down.  We didn't follow any path this time, we just headed straight down the rock pile and ignored the confusing and sporadic cairns.  It was getting very busy and we could see lines of people trekking up the mountain.  We were very happy we had started early and had avoided the throngs of summit hopefuls.  Below is a shot of Allyson down-climbing the rock pile and a shot of the hordes ascending the mountain — arrive early!
We quickly made our way down and the path was large enough that passing the crowd wasn't a big deal.  It was a gorgeous day and the sun was out in full force.  We were now able to see everything that had been obscured in the dark and the shadows.  Toward the bottom of the mountain we began to notice thunder clouds forming and we were again glad of our early start.  Below are some of the shots we got on the way down and on our way out.
Back at our trusty truck we looked at the parking lot and couldn't believe how many cars, trucks, and RVs were parked in the lots and on the road. And then we saw a group of young bighorn sheep rams. We didn't see the mature rams or ewes, but we're guessing they were probably around. They were very cute, but we just took pictures from the truck.
It had been a very eventful day, and it was barely 11am! We headed down the mountain and enjoyed a brunch at The Happy Cooker as it started to rain. Perfect timing.