Introduction
Numerous trip reports exist on climbing the 13ers in this range; however, there appears to be a need for a more detailed description of this particular route of climbing Parnassus from Herman Gulch Trailhead via Watrous Gulch Trail to Woods Mountain Ridge trail to a bushwhack up to Parnassus, hike the ridge over to Bard, bushwhack south from Bard to connect with Bard Creek Trail which takes us back to Watrous Gulch trail and then back to Herman Gulch Trailhead. Most of this is pretty obvious, except the descent from Bard. So, we'll go quickly through most of this, but focus on that aspect of the hike.
Part 1
First things first. Herman Gulch Trailhead is close-ish to Denver, and thus, can be very busy. However, it is a nice trailhead with Port-o-Potties and nice parking just off I-70. From the trailhead you are on the CDT: Herman Gulch Trail very briefly before turning right onto Watrous Gulch Trail; there are signs here, the trail is large and well maintained, and it is obvious. You continue on Watrous for about 1.25 miles before reaching the Woods Mountain Ridge trail and veering sharply uphill to the right — towards an obvious saddle. It is a beautiful hike on a very well maintained trail and it has a little creek crossing with gorgeous views of the Front Range.
As you climb up the Woods Mountain Ridge trail you get some very nice views of Grays and Torreys, and we could even see the trail leading up to Grays' summit. It is a splendid hike and there was still a nice trail that was never smaller than single track — it was pretty steep.
Saddle to Parnassus
Anyways, once you reach the saddle, if you look to your left (climbers left as you reach the saddle) you will see a trail leading up to Woods Mountain (a 12er) and if you look to your right, you will see a large climb with no clear trail (see second picture below). You want to turn right and climb up to Parnassus.
Once you get up this beast, you are pretty much there. It isn't really a false summit, per se. From here, the next route is more or less obvious (depending on conditions). You do have two options, though, on how you want to tackle Bard. You can maintain the ridge proper (which is what most people do), or you could stay a little lower and traverse around and then come up a saddle on the opposite side of Bard. If you take the second option, which isn't as steep and is probably easier, then you do add some distance since you have to turn left once you reach the saddle and then gain the summit of Bard. Either way, there isn't anything special to know, other than that the ridge can hold snow which can make this treacherous. There are some trails on the ridge, but they fade and you really can't follow one trail across the whole ridge — so just pick a line and stick to it.
Parnassus to Bard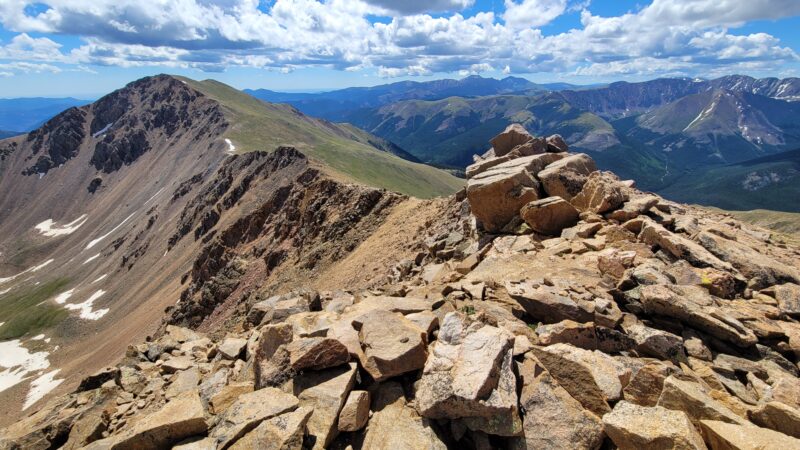 The ridge hike, as we mentioned above, isn't that bad. And you'll be at Bard in no time. Below are a couple shots of the hike.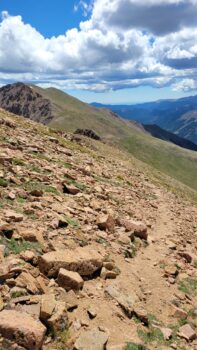 You can see that there is a trail on parts of the ridge, and on other parts there is nothing. You can also see that even in July during a hot summer, there is some snow.
Choices Choices Choices…
Once you are on Bard, you have a few choices to make. Are you going to head north to Robeson and Engelmann or are you going to head back? If you are going to head back, then you have to decide if you are going to retrace your steps or if you are going to head south and try and connect with the Bard Creek Trail. We weren't trying to nab any other 13ers, and we had seen other trip reports where the authors had climbed down Bard and connected with the Bard Creek Trail, which we thought looked nice. However, it wasn't clear where to descend and what to shoot for, and this is where our trip report will focus some attention on our idea of how to do this. (I want to state, though, that the recommendation below is only if the conditions are similar to what we were hiking in — that is, relatively snow free.)
Bard Descent to Bard Creek Trail
First, looking south from Bard you are going to see a large ridge that connects to Parnassus to your right, a smaller ridge to the left of that with a gully/cirque between them; directly below, you will see another gully/cirque and another ridge to your left. Our recommendation is to head to that smaller ridge to your right — you can even take the ridge down from Bard a bit to meet up with it. Going straight down from Bard is not pleasant. It is steep, loose and uneven — and it is about 1,400 ft. of elevation loss before you reach the Bard Creek Trail. Below are some shots from Google Earth and from our hike that show what I'm talking about.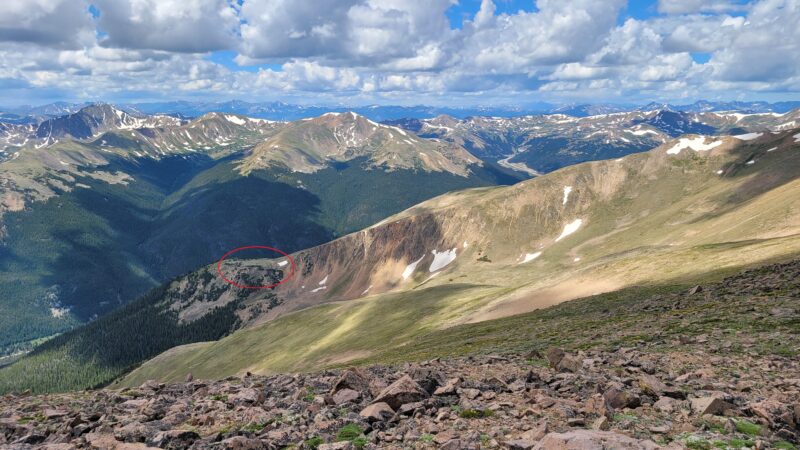 Bard Creek Trail does go up and over two ridges if you choose to go this way. So if you retrace your steps, you are going to regain Parnassus which is 600 ft. of elevation gain. But if you go down to Bard Creek Trail, you are going to have to do some route finding and still climb out. Up to you. But it is hard to see what you are supposed to do from this angle, so I got Google Earth out and took some screen shots of what we think is the best way down.
Bard Creek Trail to Watrous Gulch Trail
So, once you are down to the trail, you can relax a bit and then traverse around the ridge and down into the cirque/valley below. At this point, you again lose a trail, but you have cairns that do lead you in the right direction — which is just following the stream. (see below).
Eventually, you come to what looks like a camp site and just past that is a cairn that points into the trees. Take that path. From there, there is mostly a trail to the plateau.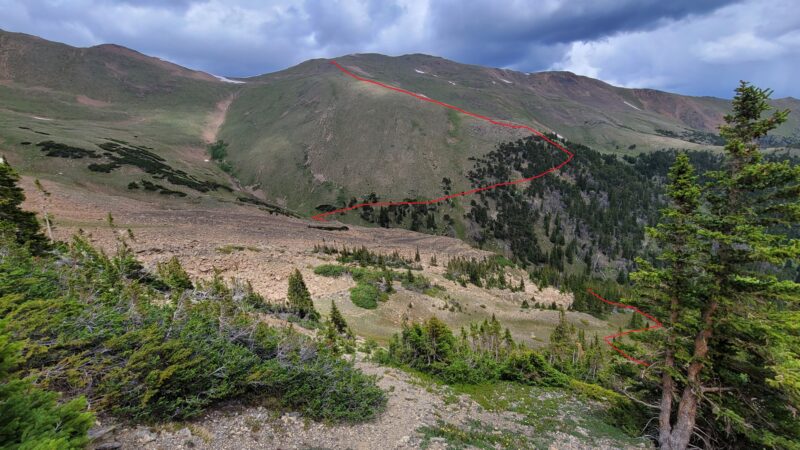 Conclusion
All in all it was right at 9.5 miles for us and about 4,700 feet of elevation gain. As you can tell, depending on how you do this, your mileage and potentially elevation gain may be slightly different. I think this was a fun route and the descent from Bard made more of a challenge. But, it would have been nice to have better beta on this, so I hope this helps someone. I would like to one day do this again, and try the route we have proposed. If you try it out, let us know in the comments. Have fun out there and be safe.