Distance: 7.04 (Out and Back)  Elevation Gain: 2,556 ft 
Max Elevation: 11,406 ft  Min. Elevation: 9,168 ft
"When preparing to climb a mountain, pack a light heart!" ~ Dan May
Sometimes, our best laid plans do not materialize leaving us restless and discouraged. The original plan of the day was to visit Wild Basin in Rocky Mountain National Forest to hike along St. Vrain Creek to Ouzel Falls and Lake. The weather was perfect, and we were excited. At the park entrance, we were greeted with a line of cars that were turned away one by one. When we reached the gate, we were told they were already at capacity, and we should go eat some food and try to come back later or do another hike. The hike we planned was 10 miles round trip, so we couldn't really afford to wait around. Though disappointed, we knew a few other hikes were very close by. We drove a few more miles down the road and found the gorgeous Lily Lake trailhead and stopped for a moment to admire the scenery and views of Long's Peak. Seen below are photos of Lily Lake before and after our hike.
After a brief stop at the lake, we headed across the street and up a little dirt road to the Twin Sisters' Trailhead as an alternative trek for the day.The Twin Sisters' Peak ridgeline runs along Rocky Mountain National Park's central-east boundary. The east peak is approximately 11,428 ft and the west peak is 11,413 feet and each offers up fantastic views of the Continental Divide, Long's Peak, Mt. Meeker and Estes Cone. The trail begins at a little over 9000 feet and steadily leads upward through a thick Lodgepole pine forest. Shortly thereafter, the trail leaves Rocky Mountain National Park and enters Roosevelt National Forest for a brief stint. Most of the first mile of the trail is a steady climb through the forest with very limited views. About 1.2 miles in, we found a clearing which provided a view of Long's Peak and a nice break for our legs. A photo from the clearing can be seen below.
As we ascended, life seemed to be teeming all around us.  Trees were budding, flowers were blooming, and life stirred all around us.  Unfortunately, mixed in with all that life were a healthy number of mosquitoes.  They were mostly a nuisance while hiking, and swarmed us only if we ever tried to sit down and rest.  We assumed they were there to keep us motivated. Thus, with no rest breaks we began the draining climb up many, many switchbacks to reach the summit. To help with motivation, we held on tightly to our Garmin and frequently checked our gains in elevation. At about 10,000 ft, the vegetation began to change. Tall pines and Aspens gave way to more spruce and fir.  As elevation increased, we had to carefully watch our footing for tree roots as the trail made the transition from subalpine forest to alpine tundra.
At just over 11,000 feet and three miles into our ascent, the trail crossed treeline. Here, the trail forced us into a very rocky, boulder filled steep area to make the final push to the top. The altitude and high cardio output at this elevation, made defeat seem a slight possibility. We were tired, and once past treeline cold as the wind ripped across the mountain. As we wearily continued, our eyes spotted an animal's tail popping up and down among rocks just ahead of us. At first, we assumed maybe just a dog someone brought along. However, we realized dogs were not allowed on the trail. At this point, we were a little nervous. What could this creature be? As we cautiously continued, the animal emerged and to our surprise, we were greeted with a cute, curious little marmot. He stared us down for a little, probably hoping to steal our food. Seen below are pictures of the last portion of the hike above treeline and our little friend.
The plant life above the treeline was also amazing on our hike.  We were treated to numerous flowering plants.  We saw Blue Columbines, Chiming Bells, Moss Campion, Alpine Avens, and many others.  Chipmunks darted around the rocks and among the flowers as we made our push to the peak.  You can see below some of the flowers and views we had making our way up.
After traversing numerous switchbacks we arrived at the summit.  There was a radio station there with a sign on the door of a stone building that read: "Please Protect This Site, These radios are used for locating lost hunters, locating downed aircraft, and saving lives."  Just past this building was a path that led up to the summit of the east peak of Twin Sisters.  It was only a brief journey before we were standing on the summit with an amazing 360 degree view of our surroundings.  Looking around a bit we noticed another marmot curiously rummaging around on a ledge below us, and we saw a baby chipmunk with his parents playing around on the rocks.  Below are some images we captured from the peak.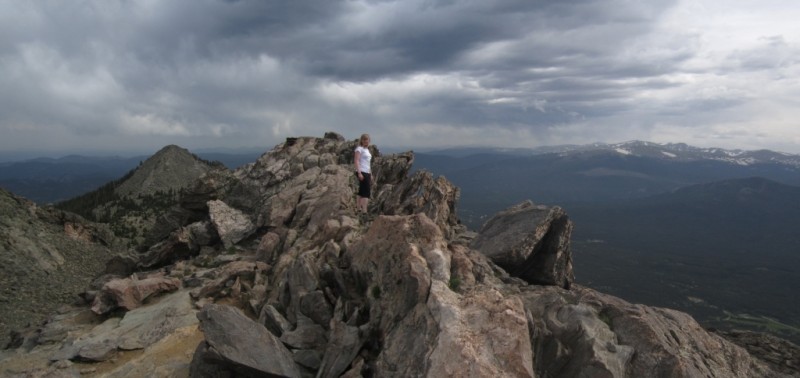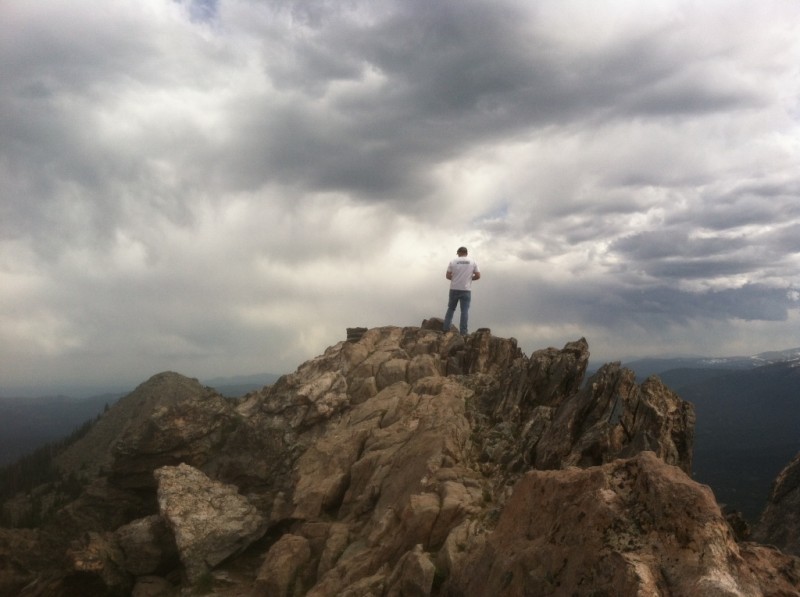 Clouds began forming and the wind picked up while we were on the west peak, so we opted to head back down below the treeline instead of hitting the saddle and trying to make the east peak and true summit.  So after a few more glances around and a goodbye said to our chipmunk and marmot friends we began our descent back down the mountain.  It was much easier going moving down instead of up and we made very good time.  Also the wind had helped to keep the mosquitoes at bay, which made the trip down much more pleasant.  As with many out-and-back hikes the return felt like a different path and we noticed views and things we didn't on the way up.  Below is an image from just after left the summit.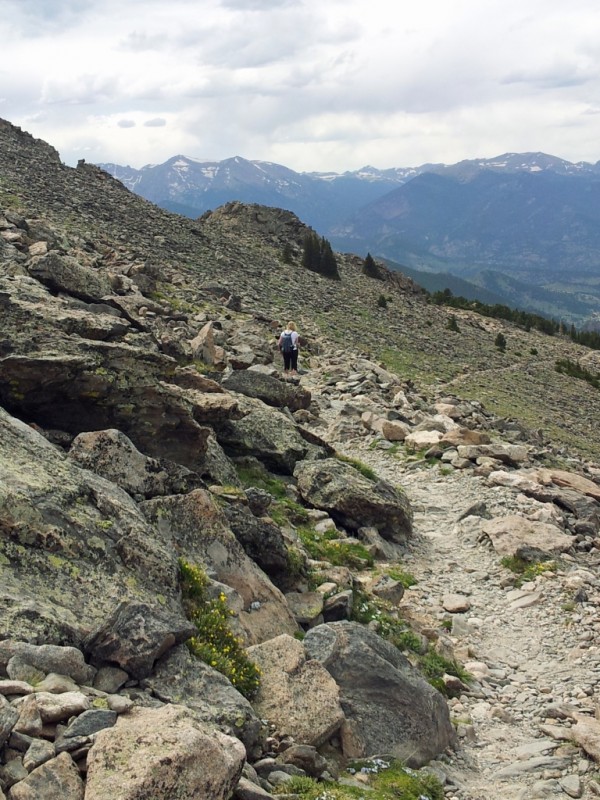 Once we were back below tree line we really started to notice beautiful red alpine fir pine cones.  The light from the sun was illuminating them and they were glowing red like little red lights in the trees.  We also noticed a pretty amazing view around halfway back down as we made our way around one of the switchbacks.  You can see the pine cones and view below.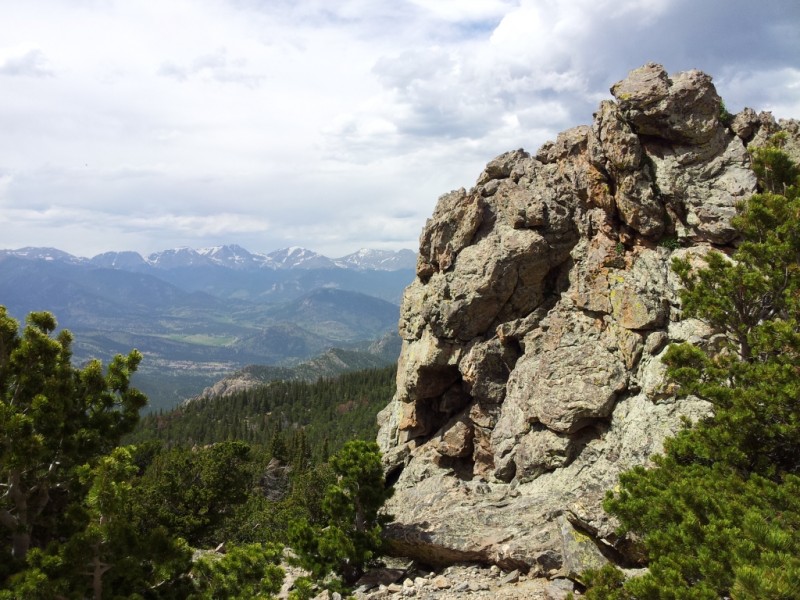 Hunger and fatigue at this point were prevailing, so we did our best to get down quickly and back to the truck. While it took us about 2 hours and 45 min. to get to the summit, we managed to get back down in about an hour and a half, for a total trip time of about 4 hours and 15 min. While, this wasn't the hike we had planned for the day, it was a great training hike for some higher peaks we would like to climb later this summer and offered breathtaking views in return for our efforts. There is ample parking along the road to the trailhead as well as at the base near Lily Lake. Access to the trail is free. Enjoy.