Distance: 9.73 miles (out and back) Elevation Gain: 2,405 ft (total gain)
Max Elevation: 11,926 ft Min. Elevation: 9,212 ft
Last summer we enjoyed a nice, long hike that led us to stops at Nymph Lake, Dream Lake, Lake Haiyaha, The Loch, Timberline Falls, Alberta Falls, and Bear Lake, all spectacular highlights showcasing the many wonders of Rocky Mountain National Park. The link to that hike from 2013 can be found HERE. Unfortunately, last year our hike was cut a little short due to a sudden and dangerous downpour of rain and hail at Timberline Falls, and we weren't able to see Lake of Glass and Sky Pond, with the daunting Sharkstooth in the backdrop. With hiking season in full bloom, we headed up yesterday to Rocky Mountain National Park to complete this portion of the hike and stand at the rocky banks of the wondrous pond in the sky. We brought our good friend Liz along; the views are so spectacular on this hike that it would be selfish not to share.
Since we had already completed the lollipop loop last time to see many of the other lakes, and Liz had seen them already too, we opted to jump onto the Alberta Falls Trail. This well groomed wooded trail immediately drops down into a valley. It winds through a pine forest and a few large aspen groves before flattening out for a brief moment to cross Chaos Creek. Once past the creek the climb starts along a ridgeline with Glacier Creek to the left, but a quick reward awaits hikers in the form of Alberta Falls. The powerful waterfalls are a really cool sight and extremely popular due to their close proximity to the trailhead (~0.9 miles from trailhead). We paused a few moments to enjoy the sounds and sights of the rushing water. Below are pictures of the fork at the trailhead, images of the hike to Alberta, and an image of Alberta Falls.
Past Alberta Falls, the well-groomed trail continues to climb through more pine forests occasionally opening up to scenic views of Glacier Gorge. As we continued to hike, we followed Glacier Creek until it creates a fork with the Icy Brook. The pleasant sounds of rushing water or simply a gurgling brook traveled with us for most of the journey.  It is amazing to think that these valleys where creeks and streams now flow were once massive glaciers.  At Icy Brook, we headed up steep switchbacks and followed the Brook toward The Loch, a famous RMNP landmark. Below are a of couple images from that section of the hike and a map for reference (with starting and ending points noted along with the route in red).
Once we arrived at The Loch, (~3.3 from trailhead), we took a short snack break enjoying the serenity of the calm lake. We sat down near a couple of anglers and saw healthy amounts of trout in the water which made us really wish we had carried some fishing gear along. While we were eating, an extremely bold chipmunk approached Liz and climbed on her shoe. It then proceeded to climb onto the rock where we were sitting and subsequently onto her pack.  It was a very cute little critter, and we kept trying to explain to him that it is illegal to feed wild animals, but he just didn't seem to get it and kept looking at us all cute like. Below are some images from The Loch and of our chipmunk friend.
After we successfully ate our snacks, we headed up and over to Timberline Falls. Lush green grass and wildflowers line the gorgeous route. After a creek crossing, the trail splits. The path heading west (right) leads to Andrew's Glacier. The original path leads to Timberline Falls. In the last mile to the falls, a series of boards connected to one another provides a dry crossing of a small alpine valley pond. The hike from The Loch to Timberline Falls is quite easy with very moderate elevation gain until tree-line. A short, steep climb takes hikers on the final push to the falls. Just as we were coming out of tree-line we saw two elk eating grass just off the trail, so we stopped for a moment to admire them.
The first part of this section of the hike is groomed trail, but then it becomes something akin to a staircase. Just before the falls, the trail fades away and a bed of rocks is the only route in which to take towards the rumbling falls. A small wooden sign labeled Sky Pond with an arrow is the only acknowledgment that the path does in fact lead up and over the rushing water. Water is constantly spraying from the falls and running down and over the bed of rocks, making good footing and stability essential to maintain balance. Below is a panorama of Timberline Falls and some shots of the hike up to it from The Loch.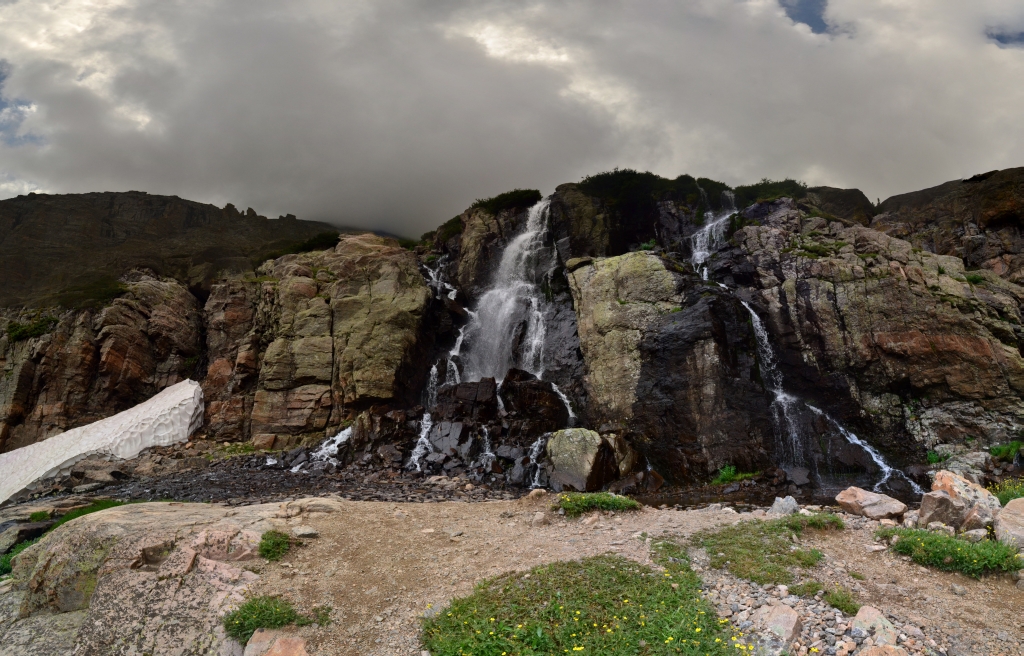 After pausing at the falls, we were now excited to tackle the short class 3 route up and over the waterfall. The route up is relatively clear to pick out just to the right of the waterfall. The biggest challenge is finding dry rock to make stable moves. If not confident in scrambling ability, then don't attempt it. The scramble is only about 0.1 miles long, but can be challenging for some. After this short, fun climbing section, we popped up and over the falls and were immediately greeted by the Lake of Glass. Pictures of our climb up and of the Lake of Glass are below.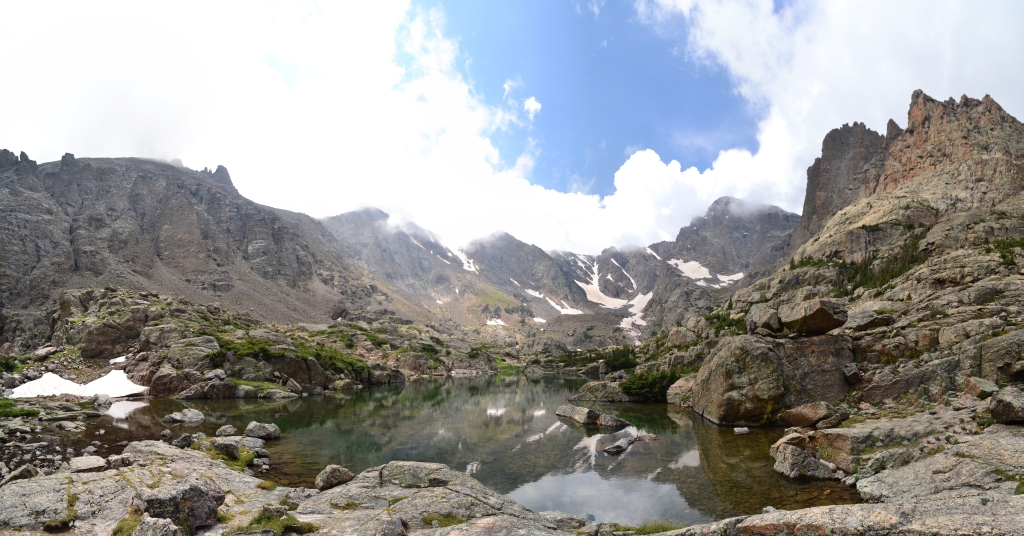 The trail continues on towards Sky Pond, which is about 0.5 miles away from Lake of Glass. This trail passes over grass, rocks and boulders disappearing and reappearing as the terrain changes. There is some minor exposure at times and some opportunities for practicing scrambling, but all avoidable. It's almost impossible to capture the wonder, mystery and beauty of the area above Timberline Falls. We each enjoyed our time here in a different way. Liz, serenely gazed at the glassy water (probably contemplating her next scramble or climbing move). Allyson "frolicked" from rock to rock. Photos below can only partially portray the beauty of what we were surrounded by.
Sky Pond is truly a stunning sight. The "pond" is actually more of a lake and surrounded by jagged peaks. The gnarly Sharkstooth provides a powerful backdrop on the northwest side of the lake. There are many options for exploration around the lake. Heading northwest towards the Sharkstooth, rock overhangs and a small cave provide shelter. Heading southwest (left) across Icy Brook allows exploration of some hills, and there are nice spots to set up lunch as well. Unfortunately, without ropes and climbing gear, it is tough to circumnavigate the lake safely.
When we were climbing up to Sky Pond, the sun had come out on what had turned into a cloudy day. Unfortunately, once we reached Sky Pond clouds came over the Continental Divide and a storm rolled through. It began to rain just as we reached the lake so we headed for cover, and took that opportunity to eat lunch. In fact, our cave was so nice a little mouse came to hang out in there too. There was some ferocious thunder, made scarier by the fact that we were essentially surrounded by large walls of rock creating an amphitheater that reflected the sound back and forth and around us (technically we were in a cirque). We hunkered down for about 10 or 15 minutes until the storm passed and the sun  came back out — that's mountain weather for you during rocky mountain "Monsoon Season." During July and August, the mountains typically get an afternoon thunderstorm every single day. Another reminder that starting early is the best bet for a safe climb or hike but still no guarantee (we started early and were still stuck in a storm).
Once the storm had passed through we headed around to the other side of the lake to get the famous view of Sky Pond with the Sharkstooth in the background. It is an easy hike to get mostly around the lake, but it does add about 0.4 miles to the total trip distance. However, it is worth it. Clouds still lingered in the Sharkstooth and gave it an ominous and almost devilish appearance. On good days this rock feature is great class 5 climbing (or so we hear). Below are images from the jaunt around Sky Pond and a video we made at Lake of Glass just as we started to head back.
We were wary that another storm might roll through, so we decided it was time to head down. We hiked back through the alpine and sub-alpine scenery until we reached the scramble. It was crowded here, and we ran into a few larger groups, some coming up and some going down. We managed to get down just fine, but unfortunately, the wet rocks caused an accident for another party.
I (Thomas) was taking pictures of Allyson and Liz down climbing and ended up behind a group of 5. This was fine with me since I had a great view and was in an incredible mood from great company and beautiful nature. So while I was sitting on a ledge watching their group climb down I saw one of their party take a vicious fall. The climber fell backwards, tumbled, and I saw the back of their head hit a rock. I climbed down very quickly to get to them and respond.
The fallen climber was quite naturally a bit shaken up and felt faint and had a nice cut on the back of the head. But the bleeding stopped and somehow there didn't appear to be any broken bones or severely sprained joints. Just a really bruised up hip and a bump to the head. After resting for a little bit and getting a little cleaned up, the climber was able to stand and hike out of their own power. Although the climber will almost certainly be very sore, they appear to have been very lucky. This climber assured us that they are going to be checked out by a doctor when they get back into town, which is the smart thing to do.
This was a humbling moment on our hike and indeed in our hiking history. The fall that the climber took could have happened to anyone. It could have easily been far worse, resulting in a broken bone, severely sprained ankle, or concussion. The incident is a reminder to take safety seriously. Had she been wearing a climbing helmet she likely would not have cut her head, and it would have minimized the risk of concussion. Although, no one, including none of our party, were wearing climbing helmets. Carrying a helment for 0.2 miles of scrambling in a 10 mile hike is hard to make oneself do.
The incident also displayed the camaraderie of hikers. We responded as did other groups to the injury. Between all of us we had a physician, an RN, a Red Cross professional rescuer, and some good Samaritans! Quite a response, it would probably take hours in an ER to get anything close to that!
After the climber was able to get up we helped her down the rest of the way and said goodbyes. Our party stayed at Timberline Falls a little bit longer and took some group pictures, which are below.
After we finished taking pictures, we hiked down and out relatively quickly. Though, the sights and sounds of Icy Brook and The Loch ever so often drew us back in for a few moments of serenity. We were rained on once more on the way back but nothing too extreme. When we reached the car, we were thrilled to throw on our Tevas, Keens, etc. and give our feet a rest. The hike was successful, and we highly recommend it. While a great workout, it was a nice break from some of the strenuous mountain climbs we have been doing recently. On the way back we stopped for cherry pie, and some delicious Oskar Blues food and brew. Until next time…hike on!
-Cheers!
Allyson & Thomas