This past Saturday, July 30th, we decided to break out the climbing helmets and scramble up a Colorado Peak. We were originally planning a Sunday climb of Kelso Ridge to the summit of Torrey's Peak on Sunday with friends, but the weather forecast called for rain and thunderstorms all day. The forecast for Saturday predicted clear, blue skies so we capitalized on this opportunity and drove just a couple of miles south of Breckenridge to attempt a Class 3 climb of Father Dyer Peak's East Ridge.
Father Dyer Peak is an unranked 13er found in the Crystal Creek Drainage area in the Tenmile range. Though quite unique and beautiful, this peak tends to fall in the shadow of its centennial neighbor, Crystal Peak (13,852 ft) but offers solitude and great climbing for those that seek it out. Father Dyer Peak is named after John Lewis Dyer, an adventurous outdoorsman who brought Methodism to the frontier areas of the United States. More information about his mission and life can be found here.
We began our journey driving South on Hwy 9 for two miles past Breckenridge to reach Spruce Creek Rd. We turned right and followed the relatively smooth dirt road for about 1.3 miles to reach the Lower Spruce Creek TH parking lot. Here, you are left with two options to reach the route to the peak. First, if you don't have a 4WD vehicle, walk past the parking lot for 0.2 miles and continue up the Crystal Creek 4WD road on the right and follow it all the way to Crystal Lake. Alternatively, you may continue on Spruce Creek Road to reach an access point for Wheeler trail if you have 4WD and good clearance. This was our chosen route. Unfortunately, the directions we had from online were not very clear, and we did quite a bit of backtracking looking for the access point. To reach the appropriate access point, continue to follow the road for 1.3 miles to reach a small upper parking lot. You will see a sign that indicates the wheeler TH. To the right, there is a small access road (aqueduct road) that is gated after about 0.1 miles. Go past the gate and look for the trail about 50 yards past the gate on the left. There is a small cairn marking the trail entrance. Seen below are photographs to assist with finding the correct path.
We hiked through the forested Wheeler trail on relatively smooth terrain. The elevation gain was steady but consistent, and we made quick work of this portion of the approach. After about 0.5 miles, we crossed a small, swift stream that had a few logs piled across to aid in our passage. We continued on the trail to reach a meadow and a trail intersection with the Crystal Creek 4WD road after 0.7 miles. Instead of continuing on the Wheeler TH, we turned left and rejoined the 4WD road to reach Crystal Lake. The 4WD road led through beautiful alpine meadows with abundant wildflowers. We saw several campsites along the way, increasing in number as we got closer to the lake. After about 40 minutes of hiking, we reached the exquisite deep turquoise waters of Crystal lake. We followed the old mining road left towards the base of Father dyer peak and then began our off trail journey to the summit.  The false summit of Father Dyer can be seen from the lake. At the time, we assumed it was the actual summit which proved to be mentally helpful on our way up. Seen below are photos from Wheeler trail, Crystal Creek 4WD road, and Crystal lake.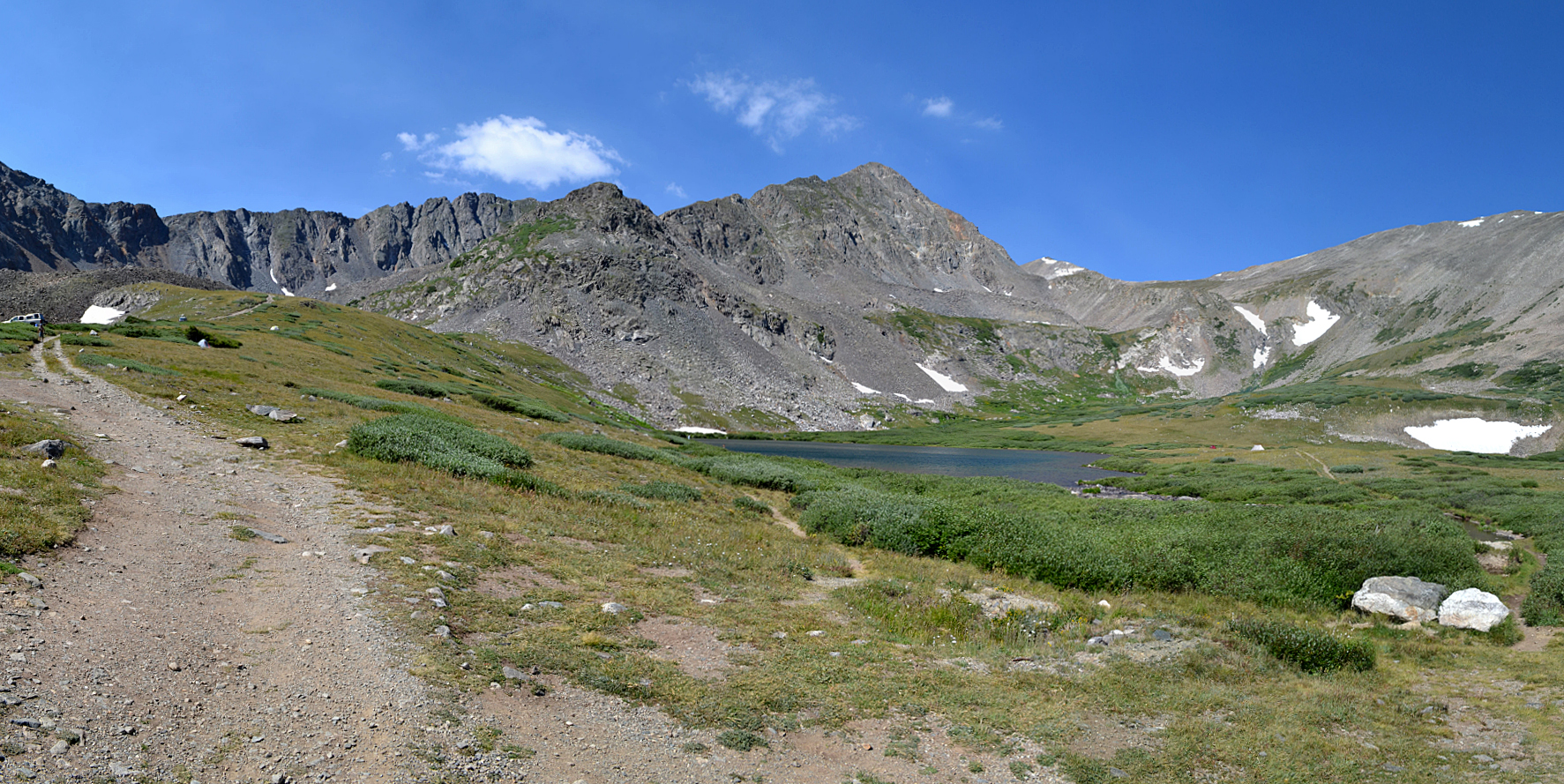 The terrain quickly and harshly gained elevation after leaving the old mining road. The steepness of the trail and uneven terrain quickened our breathing and heart rates immediately. Though we passed several groups camping and hiking up to the lake, we only saw a solo climber coming down from Father Dyer Peak. From this point onward, we basically picked our own paths up the ridge. To gain the first two "bumps", we only had to climb up steep, grassy terrain interspersed with rock. After gaining about 400-500 feet of elevation, the route briefly flattened out, and we were able to see much of our remaining objectives. The weather was still cooperating with brilliantly blue, clear skies so we continued upward. Seen below are photos as we began our ascent of the ridge.
The terrain became more interesting and fun from this point onward as we began to encounter some class 3 sections. It was a nice change to focus on climbing rock formations rather than just hiking steep terrain in which we had focused our attention on the work load of our hearts and lungs. We ascended up a steep section to a notch and reached some white, colored rocks. We did opt to wear our helmets for this scramble since the potential for dangerous rockfall is always a hazard on this type of terrain. Seen below are photographs as we gained the ridge crest.
Exposure began to increase as we got higher on the ridge. There were one or two sections that left the option of climbing on top of exposed class 3 terrain or skirting around these obstacles on narrow grassy ledges. While we tested every hand hold and foothold, most of the rock on the East Ridge was quite sturdy. While we didn't have our GPS on this climb, we estimated that we were above 13,000 feet now based on others' trip reports. Seen below are additional photos as we got closer to the false summit. The final class 3 moves of the ridge required climbing on top of jagged, pointy rock. It wasn't exactly a knife edge, but felt quite airy. The views were incredible. Notice how much smaller Crystal Lake appears.
At the top of the false summit, there was a large cairn. At first, we thought we had made it and began our enthusiastic high fives. But then our search for the Father Dyer memorial plaque was fruitless. Several trip reports mentioned a memorial, and we were not about to miss touching the actual summit. A few hundred yards away sat a distinct looking summit that required very little additional elevation gain. We quickly scampered over easy class 2 terrain and found the true summit. Though not a ranked peak due to its proximity to 13er Crystal Peak, of which we now had excellent views, the summit of Father Dyer was quite enjoyable and beautiful. It was small and offered a few smooth boulders to sit on a relax. We were careful not to get too close to the sheer, cliff on the left side of the summit.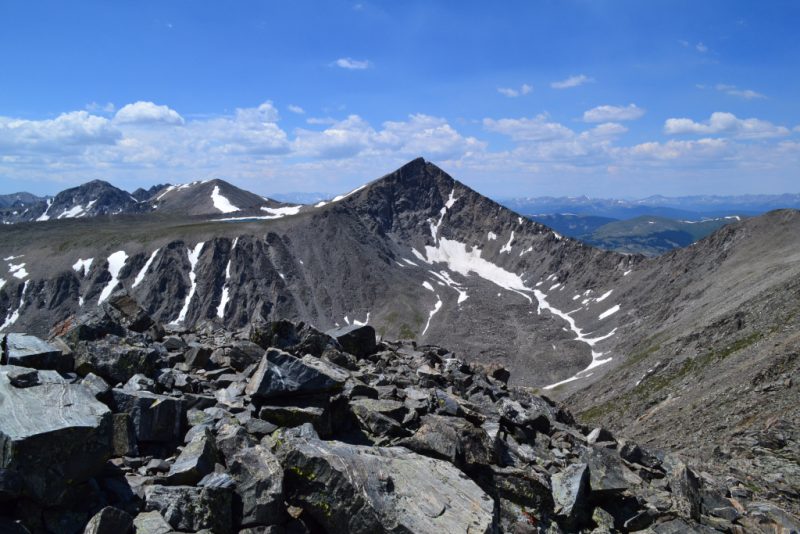 The weather was still near perfection on the summit, and Crystal Peak was just a short ridge hike away. It was very tempting to continue onward and bag another 13er, but we opted to enjoy more ridge excitement and chose to descend the East Ridge. Even though we were technically completing an out and back route, the down climb of the ridge felt new and exciting and was probably a little harder than the ascent. Seen below are photos of the same section, with one of the ascent and one of the descent.
Not surprisingly, the descent of the ridge was not much quicker than the ascent. With calm weather, we were able to take our time and carefully down climb. We paused for a few pictures once we reached the grassy sections of the lower portion of the ridge. Wildflowers were still in bloom across the alpine landscape. Once we regained the 4WD road, we had an easy 2ish mile hike back to the truck. A few more photographs were snapped and can be seen below.
Though we didn't have GPS on this trip, based on beta from others, we estimated that the round trip hike was approximately 6-6.5 miles round trip. From the bottom of the ridge to the true summit of Father Dyer was probably somewhere around 0.75 to 1.0 miles. The ridge was an easy class 3 scramble, and a perfect way to spend a Saturday in Colorado. This climb also offered solitude which is becoming more of a rarity on many of the 14,000 foot peaks. In addition, there are many more options in the area for fantastic hiking and/or climbing. If we had more energy and time last Saturday, we would have attempted the Father Dyer/Crystal Peak/Peak 10 loop.