"In every walk with nature one receives far more than he seeks."
— John Muir



A few weekends ago, Will came to visit us for the first time since he moved away this summer to New Jersey. One of our favorite places to go with him while he was here in Colorado was Estes Park and Rocky Mountain National Park. With Hwy 36 reopening ahead of schedule allowing access once more to Estes Park since the floods and Will in town, we decided it was the perfect weekend to visit, hike and do a little shopping and dining in this cozy, perfect little piece of Colorado. We left Denver around 9:00 am and headed up into the mountains. We should have checked the weather a little closer before we left. When we arrived in town, a steady snow fall began to cover the town and surrounding landscape. Our team is not one to shy away from an adventure so nonetheless we headed into the park via the Beaver Meadows visitor center entrance and proceeded another 10 miles to the Bear Lake Parking lot. As we drove deeper into the park, the snow came down heavier, blanketing the road and our car. We finally made it to the parking lot and joined a few other hikers, park rangers, and one determined family posing for a snow filled holiday Christmas card picture. (kids, dogs, Christmas sweaters!). Seen below left is a photo taken from the window of the car before we braved the outside world.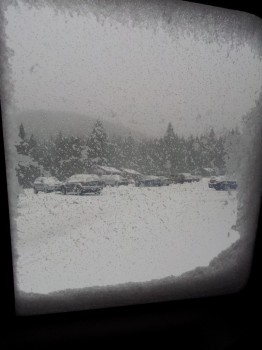 We conjured warm thoughts and left the warm car for the snow. We began our hike at the Emerald Lake Trailhead. The trail led us slowly up a gentle incline for about 0.6 miles to Nymph Lake. The snow was still falling quite hard and the trail was very icy in places so we took it slower than normal. We saw a few people returning to the trailhead at this point, but no one else was going out when we did. When we reached Nymph Lake, it was in stark contrast to our images of it from this summer. The yellow and green of the lily pads and flowers resting on the cool lake's surface were replaced with white and gray sheets of ice. The snow that continued to fall began to accumulate on the icy frozen surface, further hiding the water from our view. We paused a few moments to take it the views but were too cold to linger longer. We continued around the small frozen lake for another 0.7 miles towards Dream Lake. The snow was not deep enough to require snow shoes at the beginning of the trail, but some yak trax would have been helpful for icy portion of the hike. As we got further away from the trailhead, and as snow continued to heavily fall, it did become harder to travel as well as see the trail. There did not appear to be any markings on trees to guide hikers in winter conditions. However, it did add to the excitement and feeling of solitude which is seldom found during summer months near Bear Lake. Seen below are photos of the trail between Nymph and Dream Lake.
As we approached Dream Lake, we all took a moment to enjoy the silence of the winter mountains. The only sound was our breathing and the wind, carrying with her the snowflakes that came to rest on our coats and the tips of our noses. It was truly a magical experience. We looked in all directions and could only see the trees and white powder. Dream Lake was again, similar to Nymph Lake, and only revealed a few remnants of its summer splendor in the form of a narrow creek draining from it. We crossed the creek on a small wooden bridge and could faintly hear the gurgling water that had not yet frozen. Seen below is the creek near Dream Lake.
After Dream Lake, (and a snow dance by Will) we opted to return back to the car. Our hair and eye lashes began to freeze and we were losing site of the trail. We returned the same route we came. As we approached the trailhead, we made one small detour to the famous and popular Bear Lake. It was so beautiful and quiet. Bear Lake is never quite. It was nice to experience the large majestic alpine lake without the busloads of people in the summer. Seen below are photos by Bear Lake on the left and Dream Lake on the right.
At this point, we were ready to return to Estes Park and grab a hot chocolate. We first stopped by The Red Cup Paperie and Coffee and got some of the most delectable hot coco we have ever had. We wandered around shops and bookstores and grabbed more snacks and treats. It was really great to be back in Estes Park! Seen below is a photo snapped of us by a local photographer posted on the Joint Photographer Estes Park Facebook page. Notice all the snow still falling around us.
We finished the evening up at the iconic Stanley Hotel enjoying drinks and appetizers and then sadly finished up our day in Estes Park and headed back towards Denver. It was a fantastic experience hiking in winter conditions and has given us hope for keeping up with some snowy hikes in between skiing this season.
Summary
Distance: 2.3 miles (out and back)  Elevation Gain: 708 ft (total…not bad for a blizzard)

Max Elevation: 9,928 ft  Min. Elevation: 9,446 ft